​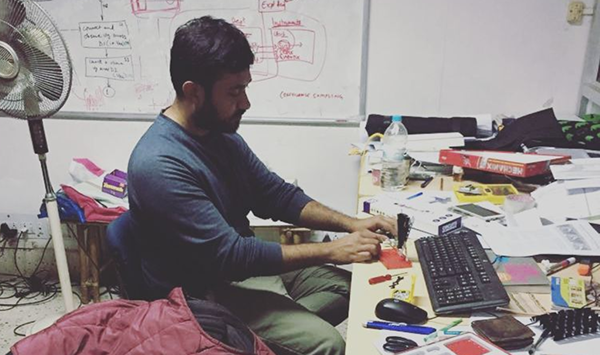 Updates:
Initiating Creative Interfaces Lab @ HCD, IIITD
I have joined IIIT Delhi as an Assistant Professor in the Dept. of Human-Centered Design

India HCI 2023 will be hosted by School of Design, UPES

FlyCHI 🚀(the UPES ACM SIGCHI Student Chapter) is up an kicking!!!

Erasmus Plus Staff Mobility Grant visit to Çağ University, Turkey for training on the Metaverse, June 20 - June 25, 2022

Workshop Conducted - "Into the Metaverse",

Pune Design Festival 2022

(online)
About Me
Dr. Anmol Srivastava is a Human-Computer Interaction designer. His research interests are towards exploring the potential of emerging technologies to aid utility, usability and creative self-expression in various contexts and use cases. At present he is serving as an Assistant Professor at HCD, IIIT Delhi and is in the process of setting up Creative Interfaces Lab. Prior to IIITD, he served at the School of Design, UPES where he headed UX & IxD Program and the XR & IxD Lab. (IxD = Interaction Design; XR = Virtual/Mixed/Augmented Reality)
Anmol completed his Ph.D. under Prof. Pradeep Yammiyavar in UE and HCI Lab in the Department of Design, IIT Guwahati. His doctoral research output has been conferred with various travel grants and prestigious awards nationally and internationally. In 2017, he was also selected as an ACM SIGCHI Student Ambassador from India at the 50th Turing Award Ceremony, San Francisco to represent SIGCHI community and the future of HCI research and practices . The Turing Awards are also referred as the Nobel prize of Computer Science. His other achievements include Best Demo Award at ICMI 2016, Tokyo; Finalist at NASSCOM Design4India Innovation Awards 2018; PhD SRC Grant at WCC 2018, Poland; ACM SIGCHI Student Travel Grant 2016.
Research interests: Unconventional research areas in Interaction Design. Currently exploring AR/VR/MR, Tangible Interaction and Physical Computing.
Contact:
E-mail(s): anmol@iiitd.ac.in (or) anmol.dun@gmail.com
Social Media/ Research Links - Linkedin Research Gate Google Scholar